Every year the album has a theme, this years theme is living amazingly. This promotion went live on September 9th 2020 and runs through to October 27th 2020.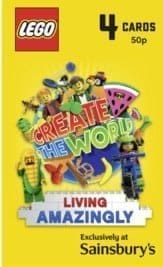 J SAINSBURY have launched their 2020 Lego trading cards album and packs of cards. Packs of 4 cards cost 50p or you can get one pack for every £10 you spend on groceries in their stores. The album holds 140 cards – so if you were lucky and got all the cards in the packs you buy first time, it would cost you £17.50 to fill the album. In reality you never get the cards you want first time so you'll have to buy a lot more and get into swapping them with your friends. This year swapping cards at school is going to be difficult to do in a Covid-19 safe way….. the teachers can't even mark homework until it's been in isolation for 72 hours.
We hope you have a happy time collecting this years cards.